Tigerian B-990 Star Cruiser 
was the most famous and massive cruiser in Tigerian Navy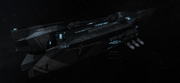 on 
Tigeria
.It is a big cruiser made by
Tigerian Shipyards
.First depature was in 
Third Era
,and it was successful.B-990 became a famous and safest cruiser on Tigeria for Tigerian Navy.B-990 was used in two Tigerian Civil Wars and a symbol of Tigerian Navy.B-990 has two,strongest engines in tigerian History.Maximum speed of this cruiser is 1,999 km/h,it is almost 200 km/h.
Ad blocker interference detected!
Wikia is a free-to-use site that makes money from advertising. We have a modified experience for viewers using ad blockers

Wikia is not accessible if you've made further modifications. Remove the custom ad blocker rule(s) and the page will load as expected.