Shadow Moon Frigate class A-800 is 
a famous frigate on Shadow Moon used in many battles includ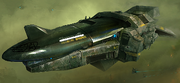 ing 
Battle for Shadow Moon (Cold War)
. A-800 was created by 
Neivoi'ika Shipyards
. A-800 was controlled by the famous Admiral Omhan Ohana Ortol who died in the
Second Shadow Moon Civil War
.
A-800 was designed and created by Neivoi'ika Shipyards. It was used in the  Battle of Sye'lla System. A-800 Frigates were used in Battle of Shadow Moon and Battle of Kion. There were a lot of them. In the end of 100 BBY A-800 was out of order and Neivoi'ika Shipyards didn't continue creating those models but in 22 BBY the production re-started from Gaul'zharn Shipards.
Ad blocker interference detected!
Wikia is a free-to-use site that makes money from advertising. We have a modified experience for viewers using ad blockers

Wikia is not accessible if you've made further modifications. Remove the custom ad blocker rule(s) and the page will load as expected.