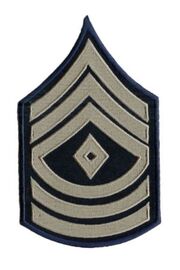 First Sergeant is an E-8 rank of the S.M.S.AMarine Corps and the SMSAArmy, and equal in pay grade to Master Sergeant, although the two have different responsibilities
For the United States Marine Corps, in their annual performance evaluations, eligible Gunnery Sergeants indicate whether they wish to be considered for promotion to Master Sergeant or First Sergeant, and thus whether they enter the promotional track for Master Gunnery Sergeant or Sergeant Major. Once promoted, the promotional track is permanent; lateral movement between the two programs is not possible.
One of the major differences between the two ranks is that First Sergeants have a general command status, while a Master Sergeant's role is as a provider of technical military leadership.
Whether this carries over into the SMSA Marine Corps is unconfirmed.
Ad blocker interference detected!
Wikia is a free-to-use site that makes money from advertising. We have a modified experience for viewers using ad blockers

Wikia is not accessible if you've made further modifications. Remove the custom ad blocker rule(s) and the page will load as expected.