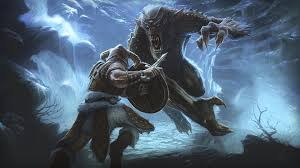 Eothred Malakata is the father of Aok'mi'r malakata. He's an adventurier and a legandary warrior of the Secondary Era. Wearing a double sword, he kill his enemy easely and with style. He is a dangerous warrior and he has been name legend. When he was 15 years old, he visited every places of Kiry fought against every beast, saw every background, and talked to everyone. He was liked by every villanges. His son, Aok'mir left him to become a warrior like his father.Aok also fought against Mergulus Kail
Ad blocker interference detected!
Wikia is a free-to-use site that makes money from advertising. We have a modified experience for viewers using ad blockers

Wikia is not accessible if you've made further modifications. Remove the custom ad blocker rule(s) and the page will load as expected.