Denualka
also known as 
Den'alka
or The Light of Shadow Moon,was a big star placed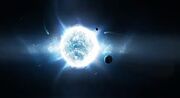 nearby 
Shadow Moon
 in 
Shadow Moon Space
 in 
Sye'lla System
.Denualka was discovered by a Shadow Moon Traveler 
Ranger'andson Neel
 in 
The Stone Era
.Denualka can be seeing from Shadow Moon night Sky in the night or early morning sky.Denualka has to asteroids flying around it all the time.asteroids called Maria and Daria.
Ad blocker interference detected!
Wikia is a free-to-use site that makes money from advertising. We have a modified experience for viewers using ad blockers

Wikia is not accessible if you've made further modifications. Remove the custom ad blocker rule(s) and the page will load as expected.