Class AF-7784 Frigate is a large frigate created by 
Neivoi'ika Shipyards
 in 
Fifth Era
.It was counted as a brand new and good project of the Shipyards.AF-7784 is strong ship and made from a good m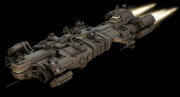 aterial.It was used in Great Siege on Shadow Moon.There are four engines on ship.If threee engines are down,frigate can still fly on one engine and land it well.
Ad blocker interference detected!
Wikia is a free-to-use site that makes money from advertising. We have a modified experience for viewers using ad blockers

Wikia is not accessible if you've made further modifications. Remove the custom ad blocker rule(s) and the page will load as expected.